RAAS-8a: 8 Position Remote Automatic Antenna Switch Kit
Pricing:
RAAS-8a Kit:

$209.00

– Now Back in Stock!
Optional USB Interface: $40.00

Shipping not included in the above pricing.
Since most of my selling happens at Hamfests, I do not have eCommerce ability on this web site.  If you wish to purchase one of these kits, please click on the Purchase Request button and submit a purchase request on the contact form.  Make sure that you include your full shipping address so I can calculate the shipping charges via USPS.  Thank you.
NEW! Optional USB Interface:
Allows the operator to control the switch via a PC.
May be integrated with any application that can send the appropriate button control protocol via a virtual serial port.
Comes with a companion stand-alone Windows application for controlling the switch from the computer.
Currently supported by RemoteHams.com remote control software.
The communications protocol is published in the Operation Manual, so integration into your existing NodeRed dashboard as well as many other applications is possible.
The interface module comes assembled due to the extensive surface mount components.  The kit builder will add the supplied 8-pin headers to the controller's circuit board, and the module would then plug into the headers.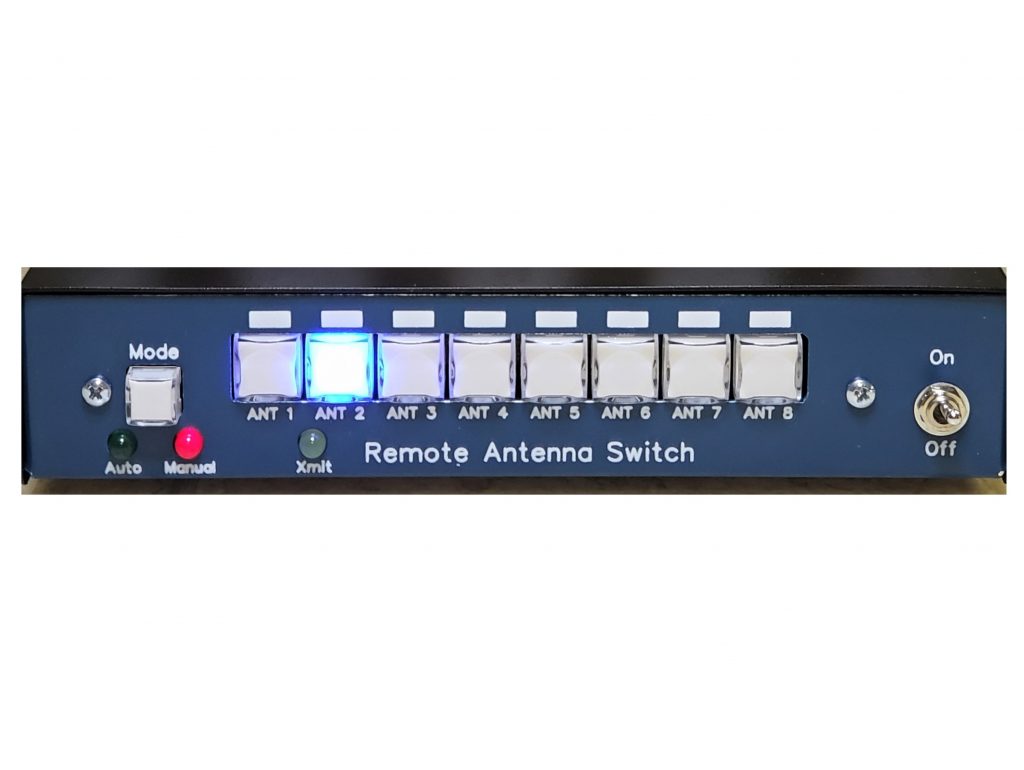 Great addition to your ham shack:
Simplifies feedline runs to multiple antennas – one long feedline to your antenna farm, then short runs from the remote relay box to each antenna.  Coaxial cable savings can be significant if you have more than an few antennas
Relatively small controller enclosure – can fit-in almost anywhere in your shack
Stylish front panel with illuminated pushbuttons
Comes with 12 VDC wall power supply, or use your shack's 12 VDC bus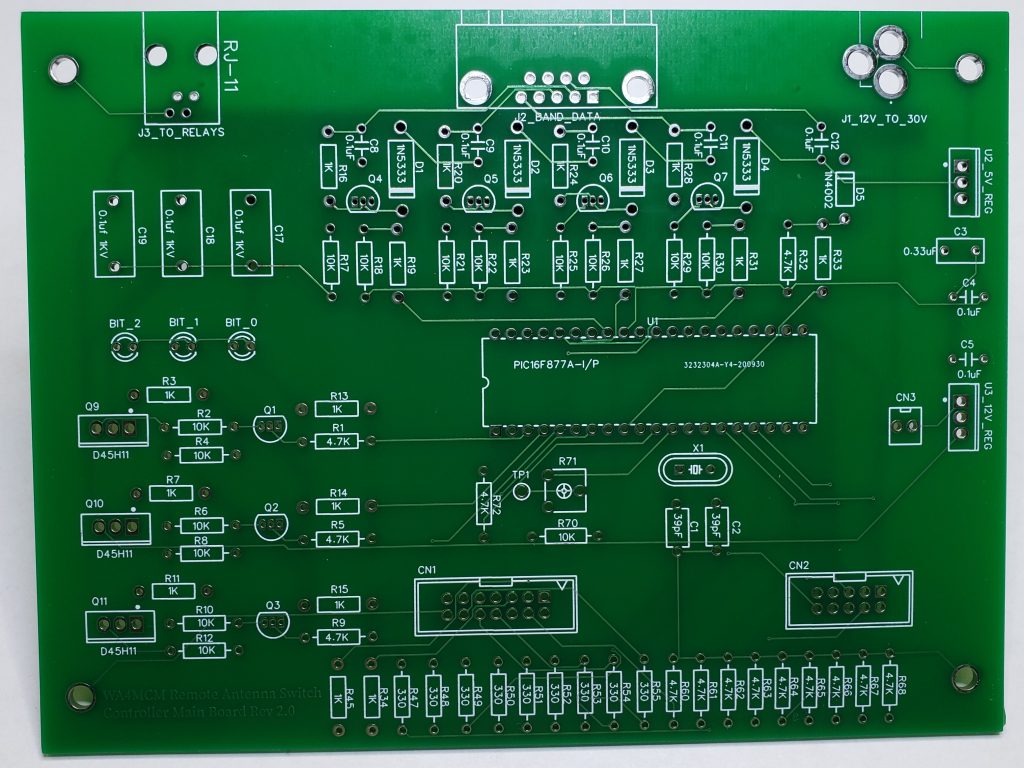 Perfect for entry-level kit builders:
All through-hole components (no surface mount soldering)
Larger than needed circuit boards to accommodate "normal" soldering irons
Fully illustrated assembly manual with step-by-step instructions – including testing and troubleshooting steps as well as all schematic diagrams
All enclosures are professionally milled, powder coated and screen printed.  No metalworking skills needed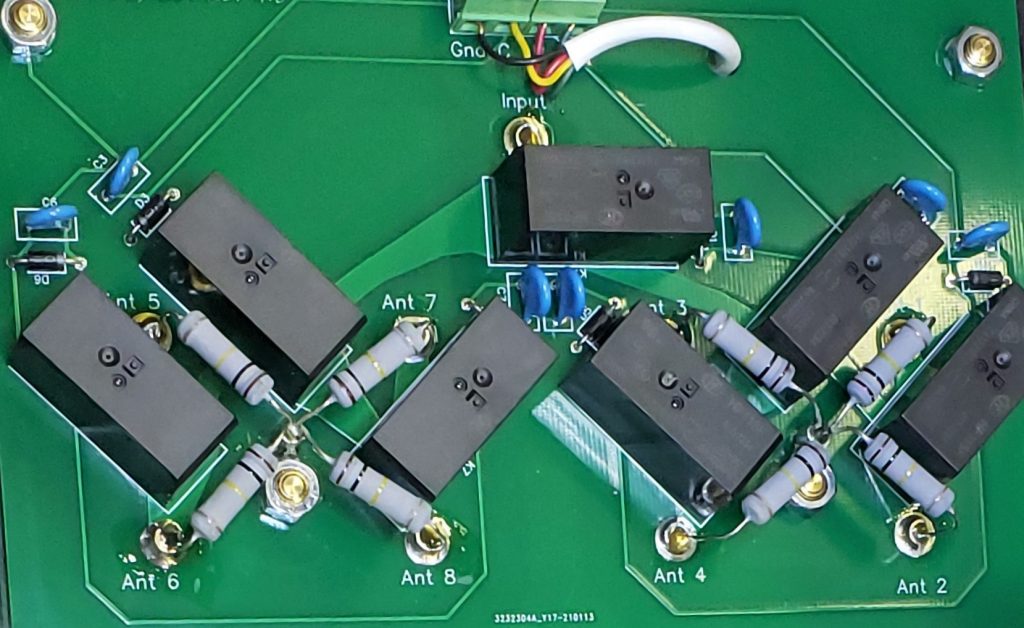 Handles full legal power:
Uses DPDT relays whose contacts are rated for 8A @ 250VAC.  The contacts are connected in parallel for each selected antenna for a combined 16A of current handling capability
Circuit board traces are wide and 4 times thicker than normal
RF paths are as short and straight as possible to reduce inductive reactance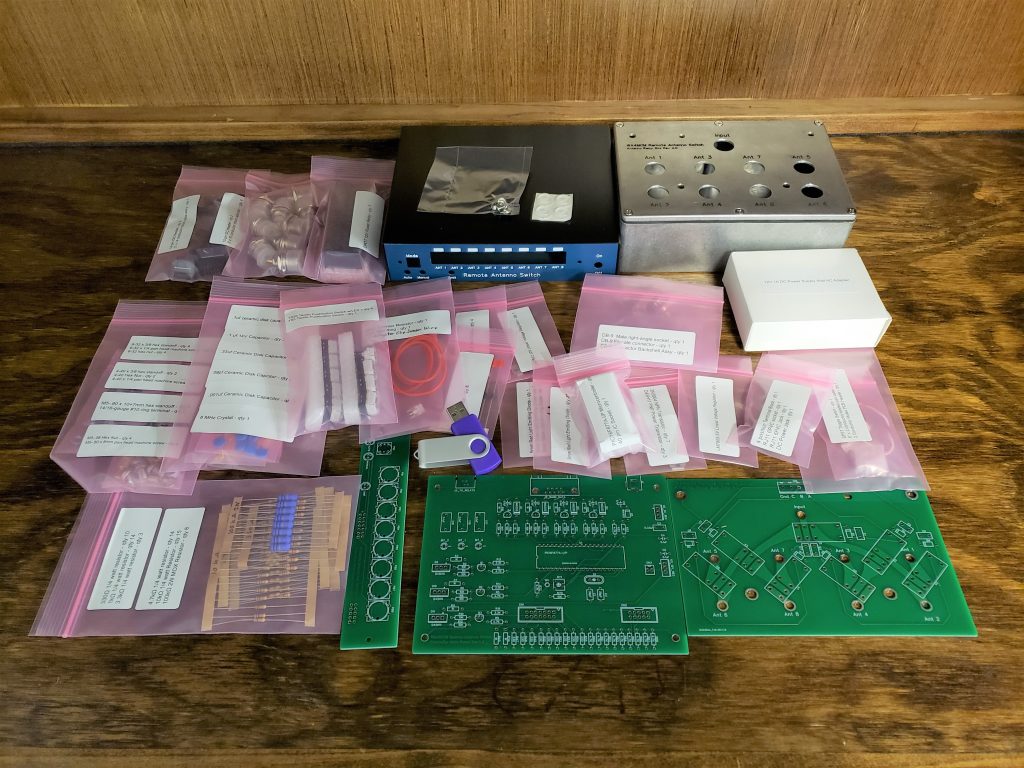 Kit comes complete with all necessary components and enclosures:
Excludes

the transmitter band-data interface cable and the 4-wire controller cable
All components are bagged in anti-static zip lock bags and labeled for convenient identification
The new enclosures are now powder coated for added durability.
Includes a 12 VDC, 1 A wall power supply